"Hallgrim Games" is planning to release it's first game to Steam, "Puzzle Pelago: A Drag & Drop Economy", for both Windows and Mac.
It's a puzzle game where you're required to build things, and you do so by setting up buildings and roads to send goods where they need to go, with the "Pelago" part (archipelago) being the narrative framing around the limited space you have to accomplish your task.
Here's the official trailer which will elaborate further:

Here are the key features of the game according to the press release:

Players build roads and workshops simply by dragging and dropping from existing buildings or resources. Resources can also be combined to produce more advanced goods.
Each island is a new puzzle! The game features more than 100 levels of increasing complexity with more to come.
Puzzle Pelago has a cheerful, uplifting theme of helping and rebuilding. All in a colorful and clean presentation.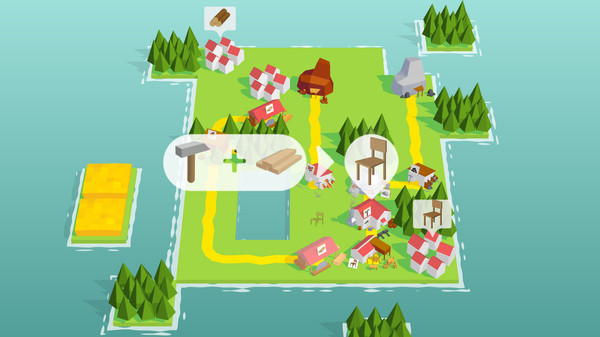 Since this is their first game, we should also take a look at who's who at Hallgrim Games; it's a very small team at the moment, composed of three main members:
Christopher Mielack, who is the sole dev and listed as both the Developer and the Publisher on the Steam Store page.
Daniele Coppola, who composed the music for the game.
Almut Schwack, responsible for sound design.